Eldercare Concert Series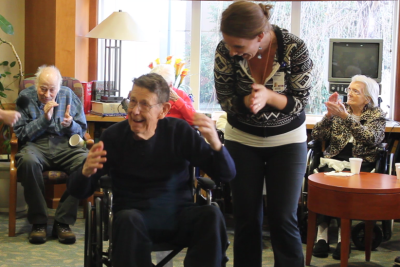 About

The Elder Care Concert Series (ECCS) brings live music, including classical, jazz, swing, big band, contemporary, bluegrass, and traditional folk music to the confined elders of our community who reside in assisted living, skilled nursing and custodial nursing homes. This program improves the quality of life for these patients, reduces isolation and encourages socialization. The performing artists allow these seniors, who do not otherwise have the means, nor the health, to attend live musical performances. With performances occurring each week during the year, the artists and their audience develop a relationship that creates a sense of familiarity and comfort. The ECCS is administered by the Sierra Arts Foundation, with support from Healing Healthcare Systems, the City of Reno Arts and Culture Commission, and multiple private donations.
Program History

The Elder Care Concert Series program began in 2002, as a partnership with Sierra Arts and Healing Healthcare Systems, to ease any isolation experienced by the residents of nursing facilities and to present a forum for community among them. Healing Healthcare Systems is a Reno-based company that develops media productions — such as in-house video/audio programming and ambient music designed to be directly supportive of the healing process in institutionalized settings. The program roots stem from Healing Healthcare's president, Susan Mazer and her husband Dallas Smith's, experience performing for seniors in an assisted living facility where Smith's parents lived. After their first performance, they could clearly see how the music positively affected those who live in such facilities feel about themselves and their situation, "making those musical moments ones in which the sense of well-being transcends suffering."
In 2002, Healing Healthcare Systems provided a generous donation of $5,000, which was matched by the City of Reno's Arts and Culture Commission. Tommy Sands, an Irish musician who performs internationally, provided the first ECCS performance for Alzheimer's residents at the Clare Bridge and Alterra Wynwood facility. Jill Berryman, former SAF Executive Director, was an audience member for that first concert and says, "It was amazing to witness the transformation of the residents in one hour's time. It was like watching time-lapse photography of a rose blooming, starting out with the tightest bud, people not socializing or interacting at all, to the full bloom when suddenly residents moved to the first row, they began singing along, they started talking to each other and having eye contact with Tommy and the staff. I cry sometimes when I think about what took place and the power the arts have to make it happen."
Image: Musician Susan Mazer

Current Facilities
Arbors Memory Care, a facility primarily for those with Alzheimer's and other diseases that deal with memory loss. This facility is located in Sparks, Nevada.
Brookdale Vista offers Assisted Living lifestyle options for residents and their families in the Sparks metropolitan area.
Fountains Senior Care is an all-inclusive senior retirement community that specializes in quality of life enhancement in Reno, Nevada.
Life Care Center of Reno, Landa focuses on inpatient and outpatient rehabilitation with 24-hour skilled nursing care in South Reno, Nevada.
Monaco Ridge Assisted Living (Renown) is a wonderful alternative for people who need more care than what can be provided at home or in a retirement community. This facility is located on the campus of Renown South Meadows Medical Center in Reno, Nevada.
Morning Star Assisted Living MorningStar's distinction from other senior living options begins with their mission statement: to honor, to serve, to invest.
Park Place Assisted Living is Northern Nevada's unique assisted living community of homes, delivering exceptional care 24/7/365 in Reno, Nevada.
Reno Valley Assisted Living and Retirement Center is dedicated to accommodating Independence and Quality of Life at an Affordable Price in Reno, Nevada close to the University of Nevada Reno.
Sierra Place Assisted Living Located in the foothills of the Sierra Nevada Mountains, they offer a simply elegant lifestyle and resort-style amenities and senior services.
Stone Valley Alzheimer's Special Care Center is committed to being the leader in providing quality personal services for residents, while honoring the experience of aging.
SAF is looking for additional facilities at which to provide concerts. Please contact Tia Flores, Program Director, for more information, tia@sierra-arts.org
Our Musicians
Sierra Art's musician roster includes, approximately, twenty-three professional musicians in our local community. The musicians who participate in the Elder Care Concert Series,  attend mandatory training sessions for the program. This training provides tools for all parties involved to enhance the overall artistic impact of the concerts. Through training and first-hand experience at the facilities, musicians gain skills which allow them to interact comfortably with the residents and to perform their music in ways in which will be best received and enjoyed by those suffering from Alzheimer's and age-related ailments. Training for staff at the sites allows them to create an environment that will best facilitate the residents' enjoyment of and participation in the concerts. It also helps staff to create the atmosphere of 'ritual' that is so much a part of combating the residents' sense of isolation.
In the magazine, Nursing Homes Long Term Care Management, Susan Mazer detailed the program, and spoke to the benefits of the Elder Care Concert Series performances as recurring events, around which to build this sense of 'ritual. ' "Presenting concerts in nursing homes or hospitals is not a new idea. However, an eldercare concert, whose specific intention is to enrich the facility's culture and enhance residents' quality of life, has far more comprehensive impact than a one-time or occasional event." She has also written that, "After returning to the facilities to perform several times, the relationships between the musicians and their audiences develop into a partnership that benefits everyone- staff, residents and musicians."
Thank You
This program is possible due to the kind contributions of Susan Mazer and Dallas Smith, Robert S. and Dorothy J. Kaiser Foundation, City of Reno Program Funding, Dermody Properties Foundation, NV Energy, Nevada Arts Council, and National Endowment for the Arts
For more information about this program please call or email Tia Flores, Program Director at tia@sierra-arts.org