4th Street: A Legacy of Change
July 14, 2020 @ 8:00 am

-

August 10, 2020 @ 5:00 pm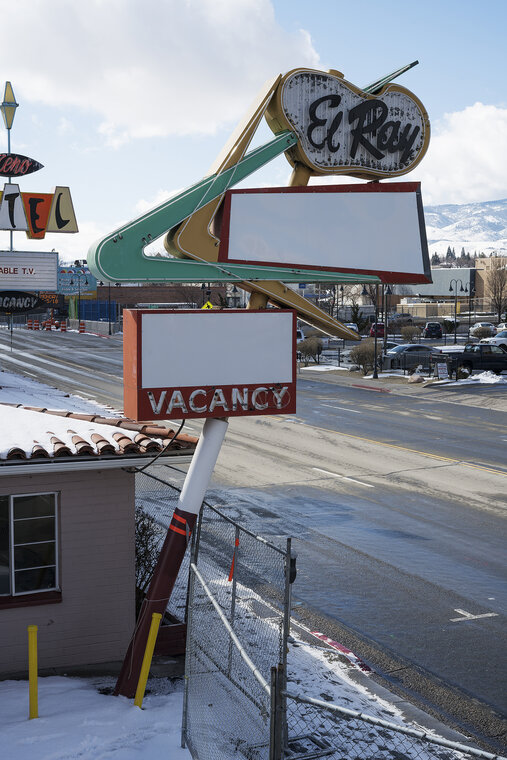 Photo exhibit showcases mid-century modern architecture
RENO, Nevada – A photo exhibit recognizing the legacy of mid-century modern architecture in Reno is now available on Sierra Arts website.
The exhibit was originally scheduled in the Annex Gallery but closures resulting from COVID-19 have prevented a live display.
Titled "4th Street: A Legacy of Change," the exhibit is a compilation of images by photographers Scott Hinton, Sebastian Diaz and Jeff John Sison. Their dramatic images document the remnants of three motor lodges that lined Arlington Avenue, an artery of Old U.S. 40 (now 4th Street). The exhibit is a selection from a digital archive of more than 100 images that explored interior rooms, décor, surrounding cityscape and the signage that was quintessential to Reno's motor lodge era.
This exhibit is part of the Reno MoMo Initiative – a year-long identification and celebration of the mid-century period and the brainchild of the Historic Reno Preservation Society. Reno MoMo is a citizen organization founded in 2018. Its members have ties to the architecture, design, art and historic communities in Reno.
Others supporting the exhibition include the City of Reno, Nevada Arts Council, Nevada Humanities and Jacobs Entertainment.
For more information and sites, check out renohistorical.org
You can visit the exhibition on our website under Virtual Galleries, or click on this link. https://artspaces.kunstmatrix.com/en/exhibition/1482814/4th-street-a-legacy-of-change