This program is designed to support local artists and businesses by exposing their work to a different demographic than typical gallery attendees. It also enhances the employee's quality of life by enhancing their space with an environment of great art.
We now have contracts with organizations like the  ROC Reno Orthopedic Clinic, The Reno Aces, NV Energy, NV State Board of Professional Engineers & Land Surveyors, Plumas Bank.  Our newest clients are sponsored by the City of Sparks and include:  Engine 8 Winery, Packs N Pints, Tres Hombres, O'Skies, and Pinon.
We feature artwork by local artists, specializing in a variety of mediums and techniques to ensure that your office art experience is diverse and ever changing.  Participation in the program gives the artists more exposure in the community and the opportunity to sell their work.
For more information about the program or if you are an artist that would like to participate, please contact Eric Brooks, eric@sierra-arts.org.
The City of Sparks has graciously sponsored local downtown businesses to participate in this vibrant and growning program.  To schedule a tour of the exhibits, please contact Eric Brooks at 415-596-4987.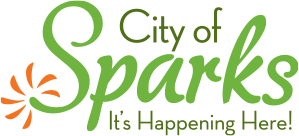 Thank You City of Sparks for Sponsoring Local Art!
Nate Kuhne at Packs N Pints
Dale Slingland at Engine 8 Winery
Lauren Mari Hufft at Tres Hombres
Jennifer Charboneau at Pinon