Trash? Treasure? or True Art? by Carolyn Guerra
August 4, 2020 @ 8:00 am

-

August 29, 2020 @ 5:00 pm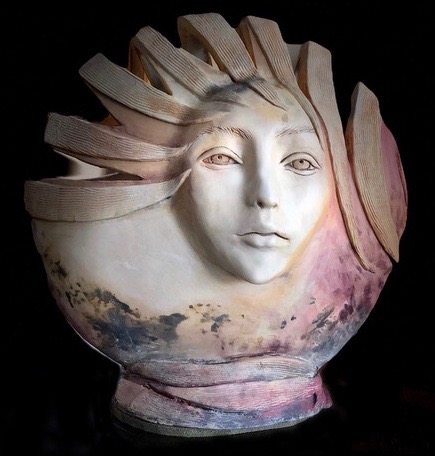 Experience the wonderful, whimsical sculpture of Carolyn Guerra.
Recycling is the theme of the day. Saving items from the dump is the patriotic thing to do. I collect all kinds of things not knowing their final destination: no longer useful keys, interesting old faucets, my father's fishing lures, feathers, rotors for disk brakes, and old parts from discarded toys. Suddenly, an idea of how to incorporate the items into a sculpture fills my mind. I like the frugal notion of reusing things that would be tossed, and I would never have created this without this bit of trash.
I was offered an old doctor's scale and immediately began considering it's final destination: "Weighty Issue",' my fiberglass version of Rhinoman with fattening foods plastered over his corpulent belly.
When my wire vases lost their use as decor, I began envisioning them as the skirt of a young girl. I have often used rotor brakes, their simple design provides a sturdy base to hold my sculptures erect. I enjoy sharing my fascination with resurrecting junk, giving it new life – an example to us all.
The second part of this exhibit is the last originally complete showing of my Emptiness Series. "Hide My Emptiness" was my first and was not planned as a series. As I finished each one, an idea for another came into my mind. When I was on my fourth sculpture, Roland Weinstein was visiting. I shared my thoughts about creating ten or twelve pieces in the series. He encouraged me to show him the group when completed, and if he liked the outcome, he would give me a show at his San Francisco Gallery on Union Street. As each sculpture sold, I was driven to create another one from scratch with slight deviations. Each new one carried the same meaning as the original but was unique unto itself. After three years of remaking new versions of emptiness sculptures, I feel it is time to allow my imagination to conceive an entirely new vision.
Visit the Virtual Gallery:
Artist Reception, Thursday, August 13th, 6 to 8 pm.
Social Distancing, limited numbers in the gallery, and face masks will be strictly enforced.