WE ARE THE SEA – A Community Art Project Supporting BLM
July 8 @ 10:00 am

-

July 31 @ 5:00 pm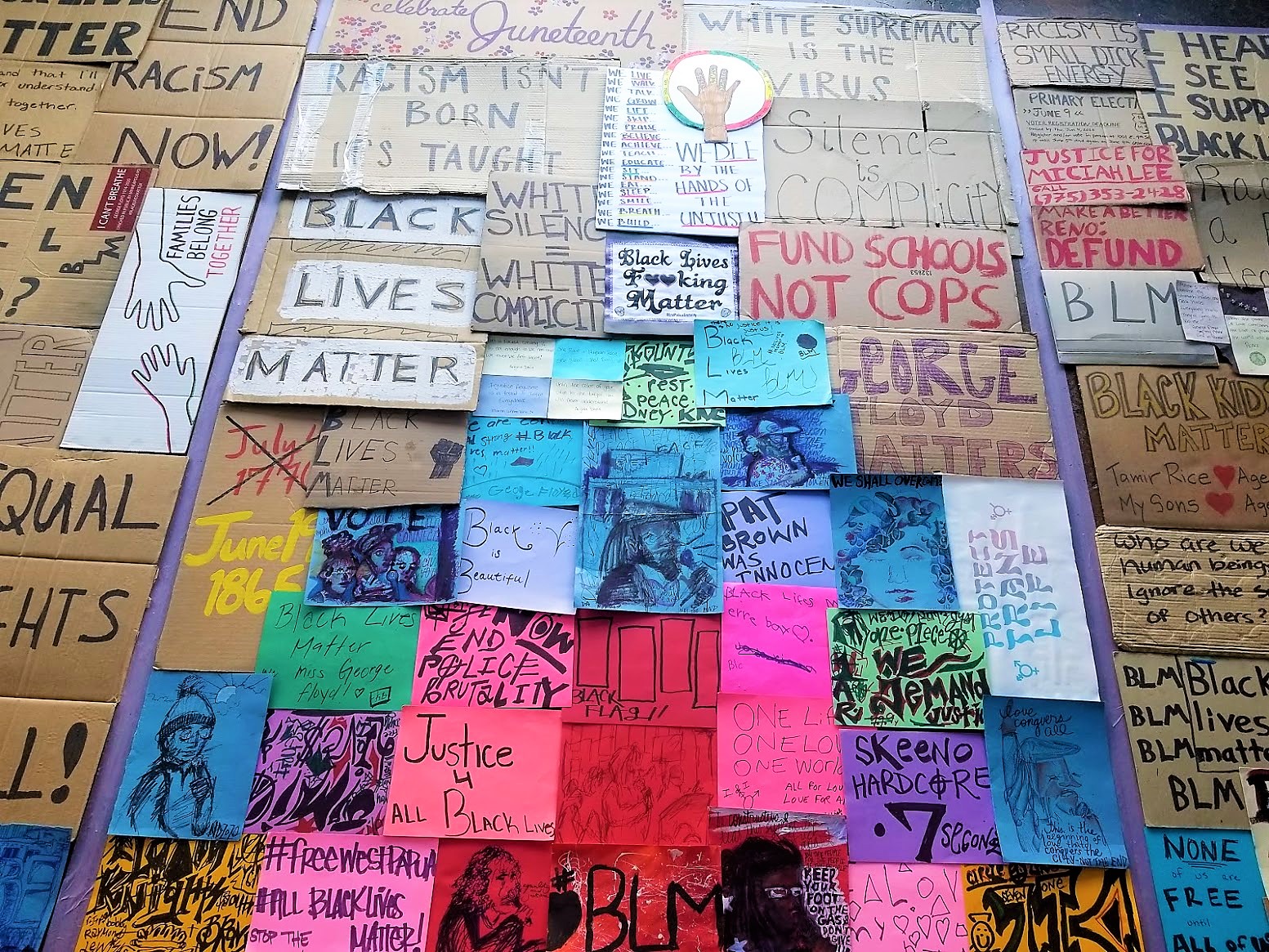 Kyle and Kaitlin Young drew inspiration for this project from the Washington DC mayor after she helped to orchestrate the painting of "Black Lives Matter" across the road that leads to the White House.
The Young's wondered how they could contribute towards a piece of community-driven art that condemned police brutality and racial injustice. They asked us here at Sierra Arts Foundation if we would be interested in housing an exhibit of this type. We were eager to see what they came up with. Let us disclose, too, that the Young's are two of our vendors. They approached us about this project outside the scope of work that they do for us.
They began by soliciting protest signs and posters from the community focused on racial injustice.
Soon into this collection process, they met up with Jamey Ellis. Shortly after Minneapolis police killed George Floyd, Ellis came to Reno from northern California in hopes of igniting a sustained conversation about racial justice in the Reno community. Ellis chose Reno because it was the nearest large city that didn't seem to be participating in daily demonstrations in support of Black Lives Matter. Ellis offered free art supplies and chalk to members of our community, so that they could produce protest materials and messages of solidarity with our BIPOC community.
In an act of civil disobedience, Ellis used painters tape to hang signs and posters from the community at the Believe monument located at City Plaza in downtown Reno. He diligently put up these materials and took them down each day and night for three weeks.
When Ellis and the Young's learned of one another's efforts, they joined forces to stimulate community dialogues about social injustice. Together, alongside other locals, they formed the activist organization, Believe in Nevada.
Upon Ellis's return home, he donated the community's signs and posters to the Young's community project. Between Ellis's donation and grassroots organizing, the Young's collected more than 100 different signs and posters. They used this collection to create a collage in our front windows. Natalie Combs, Sierra Arts Foundation staff member, staged and hung the finer art pieces donated to this project.
Here is a brief statement from the Young's:
"These signs and posters are physical representations of the voices of our community. It's our goal to elevate melanated voices and the voices of our community at large, not to speak for them. As such, we did not censor any of the materials donated to us. Our only stipulation was that donated materials did not incite violence.
We wish to preserve these voices and capture this critical moment in human history. We didn't like the idea of people's voices, captured in material form, to end up in our landfills. We wish for these materials to stimulate difficult conversations about police brutality and racial injustice in our community. Further, we hope this community-driven exhibit emboldens locals to publicly stand in solidarity with black people, indigeous people and people of color in our community. The BIPOC community is under siege from police – a group that should be protecting us all and applying the law equally. We, the whole community, the sea, must rally behind melanated voices and change our community for the better."
The exhibit includes five parts: a street-facing window collage, a series of original finer art works, a poem on a large banner, the "wave" of voices and photography displayed on a television.
The gallery is open to the public Tuesday through Friday from 10 a.m. to 2 p.m. and Saturdays from 12 p.m. to 4 p.m.
The poetry mentioned corresponds with the name of the art exhibit: WE ARE THE SEA.
Read Kyle's poem below:
WE ARE THE SEA
Separate, we are drops of water.
Together, we are the sea.
You can swallow drops.
You can't swallow the sea.
Feel our weight, our strength, our motion.
Our form changes, but we remain the sea.
We are fear and pride and rage.
And, so are you.
We are love and hope and light.
And, so are you.
You have been away too long.
Please, return to the sea.